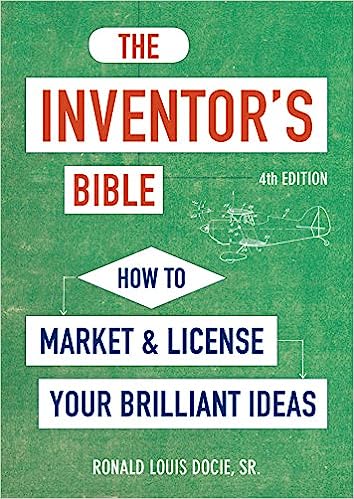 About the Inventor's Bible
The definitive guide for inventors, newly updated with the latest patenting laws, information on crowdfunding, and online resources.
The path to success is clearer than it's ever been! Thanks to experienced inventor Ronald Docie, the process of commercializing your invention and receiving royalties is no longer complicated. The Inventor's Bible is an in-depth how-to manual for both beginners and skilled entrepreneurs alike that helps you develop a realistic, workable plan, research your market, target potential business partners, and strike a good deal for your inventions. It tackles vital concerns, such as: What is my invention worth? What steps should I take first? Is free government help available? Who can I trust, and how can I keep from getting ripped off?
With The Inventor's Bible, your dream can become the world's next great invention.
Revised to reflect recent changes and innovations, this fourth edition includes: 
• Crowdfunding and Crowdsourcing
• Open Innovation
• Free Patenting Help
• New U.S. Patent Laws
• America Invents Act
• Online Help for Inventors
Featuring the PATENT AND NEW PRODUCT MARKETING WORKBOOK that takes you step-by-step through:
• Patenting
• Selecting Manufacturers
• Finding the Best Markets
• Developing a Strategy
• Presenting Your Invention to Companies
• Negotiating the Best Deal
Ronald L Docie, Sr.'s career in the world of inventions spans more than three decades. His own inventions are featured in Wal-Mart, Kmart and thousands of other outlets. As an agent for inventors, Mr. Docie has negotiated more than 50 licenses with companies like General Motors, and he's an expert consultant to Johnson & Johnson on idea submission. He is also the president of Docie Development, LLC, an international company that provides services for inventors and corporations.
Praise for the Inventor's Bible
"This remarkable and useful book is also a pleasure to read. David Sarnoff defined an inventor as someone who makes others wealthy. Inventors who read The Inventor's Bible and follow its step-by-step instructions can now more easily reap the rewards of their own ingenuity. Mr. Docie has covered virtually every facet of invention: securing proprietary rights, patents, licensing, and production. A must for inventors."
"Inventors should add The Inventor's Bible to their bookshelves immediately, but be certain to keep it within easy reach. This book is a powerful compilation of useful advice from one who's already been down the rocky road to invention commercialization. Ron Docie has a lot of experience to share, and he does so in an organized fashion."
"I can recommend The Inventor's Bible without reservation as a most valuable resource for the independent inventor who is looking to develop and bring an invention to market. The Inventor's Bible clearly reflects in-depth and long-time experience in the field of invention development and marketing. It is well written, very readable, and quite thorough in describing what needs to be done by the independent inventor to successfully get an invention into the marketplace. The 'how-to' aspects of The Inventor's Bible are extraordinarily detailed."
"I've been an inventor for over 30 years and I believe this book could have saved me much time and heartbreak had I read it when I was beginning my invention career. Please read it and take notes! It is a God send!"
"The Inventor's Bible is an excellent collection of practical information useful to all inventors, based on the author's personal, extensive experience. The text is not presented from a legal viewpoint but rather follows essentially a business and financial path, which an inventor who hopes to be financially successful should consider."
"Rarely does a book come along that provides an accurate and thorough explanation of the invention process. The real life stories and quotes not only provide for interesting reading, but also adequately warn inventors of potential pitfalls commonly encountered. I unconditionally recommend The Inventor's Bible to all inventors and businesses."
"Docie presents a refreshingly frank approach to invention development, protection, and marketing. His advice on 'tiered risk' alone may save inventors, both neophytes and seasoned, thousands of dollars as well as invaluable time. His book is a must for the desk of every serious inventor."
"Ron has outdone himself! In my opinion The Inventors Bible can be considered the good book for inventors. What you have here is an excellent guide with rock solid information that will definitely steer inventors on the right course. But it's also intertwined with Ron's personal experiences, which will help inventors be more realistic. Whether you're thinking of inventing or are already a professional in the inventing field, Ron's book is easy to read and he covers a lot of territory very well. Chock full of information, tips, words of wisdom, and resources, The Inventors Bible will teach, prod, and motivate readers."
"The Inventor's Bible takes readers from Genesis through Revelation in the convoluted world of inventing. This is the book that every inventor needs to read. Ron's been there and done that, and now he shares his expertise. Before spending a dime on patents or services, get this book."